When we violate any of God's like principles, we will pay a price.
God placed this commandment as number four - not number one hundred.
He considers it important enough to carve it into stone for us to read and follow - we would do well to pay attention!
Prior to my back injury, I was mom of two children, wife, and working three part time jobs as an R.N. (Oh, yes, I put in well over 40 hours a week!). On top of that, I sang in a quartet with many engagements each month, and tried to be involved in all the school and church activities. I was violating this commandment big time! I didn't have time to slow down......until May 1, 1989 when I suffered a back injury at work.
I have learned (and relearned) that when I resist God's principles, He will discipline me- because He loves me that much. For me, I had resisted my "Sabbath rest" far too long. Oh, I went to church, I just didn't take time out to rest in Him. My breakdown started as physical and soon became emotional, spiritual, financial and marital. I no longer had my work to hide in - I was flat on my back, with nowhere to go. God got my attention finally, and I could look back and see the years I had wasted by ignoring His Sabbath rest. He did not let my self- destructive tendency go unchallenged.
I realized that I needed more of His peace, joy, tenderness, love, wisdom, direction and compassion. And He wanted time with me, to share His heart with me - to have a relationship with me. It was the first time I really understood that.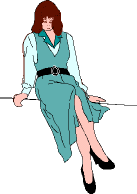 God didn't even work seven days- He set the pattern for us by taking the seventh day to rest. We can't expect to go without being restored by Him.
Mark 6:31
Then, because so many people were coming and going that they did not even have a chance to eat, he said to them, "Come with me by yourselves to a quiet place and get some rest."

Psalm 23:1-3
A psalm of David. The LORD is my shepherd, I shall not be in want.
He makes me lie down in green pastures, he leads me beside quiet waters,
he restores my soul. He guides me in paths of righteousness for his name's sake.

He makes us lie down - then He restores us!!!!!!!
He intends for us to have this interval of rest.
We take this time and remind ourselves;
1. Who God is

2. The price He paid for us

3. What He has promised to do in us and through us.

4. What He wants to accomplish in our hearts and lives.

5. The place He is preparing for us
.